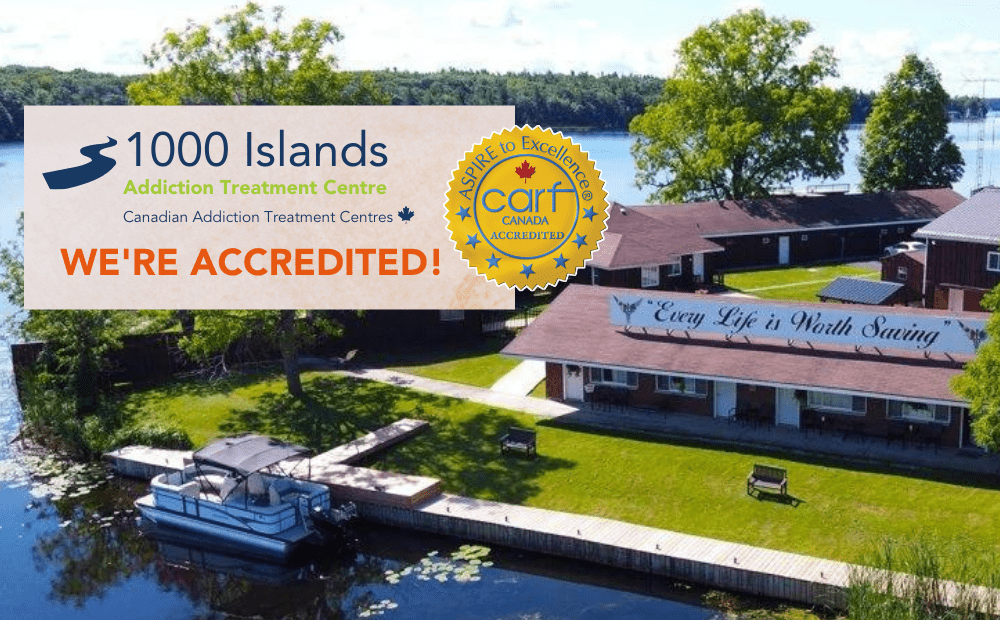 Awarded gold standard for excellence in client care
For immediate release
Aug 15, Toronto ON—1000 Islands Addiction Treatment Centre, now under new management by Canadian Addiction Treatment Centres (CATC), has achieved CARF (Commission on Accreditation of Rehabilitation Facilities) Accreditation, the industry-leading standard for quality and excellence in recovery programs. CATC is the nation's largest provider of evidence-based addiction recovery programs, serving nearly 15,000 people every month across Canada.
Having taken over ownership earlier this year, CATC has already made major changes in order to meet and maintain the highest bar of client-centred care; including bringing in new management and support from a specialized psychiatrist.
"1000 Islands Addiction Treatment Centre has been helping people in Eastern Ontario and beyond take back their lives from substance use disorder for years," says Danielle McCarron, VP of Inpatient and Virtual Programs at CATC. "CARF accreditation is proof that, when people trust us with their recovery, both they and their loved ones are in the best possible hands."
She adds that the team of specialists at the centre now has "the full support of a national network of addiction recovery professionals, to support continual improvement and ensure care standards retain this new level of quality."
1000 Islands Addiction Treatment Centre (ATC) regularly welcomes clients from the Ottawa region and GTA, but also attracts people from the US and from both Canadian coasts. Now, having achieved CARF accredited status, the door is open to build lasting partnerships with community care providers and government, with the goal of expanding access to life-saving addiction recovery care. CATC is advocating for more beds in the province to be publicly funded, removing the barrier of affordability that prevents people from getting the qualified help they need; especially with wait times for similar programs at a high.
"We're ready to add capacity in our communities to provide person-centred care for people in recovery," says Rebecca Wolfgram, Executive Director at 1000 Islands ATC. "We need to work together as partners in community care to give people access to the help they need, when they need it." Wolfgram has been managing 1000 Islands ATC since April of this year.
1000 Islands ATC joins two other accredited inpatient recovery centres operated by CATC within the GTA: Trafalgar Addiction Treatment Centre and Greenestone Centre for Recovery. Neworld Medical Detox, recently acquired by CATC, is slated for accreditation at the end of this year.
Media contact:
Danielle McCarron
VP, Inpatient and Virtual Programs
Canadian Addiction Treatment Centres
dmccarron@canatc.ca | (416) 805-3263
About Canadian Addiction Treatment Centres
Canadian Addiction Treatment Centres (CATC) is Canada's largest provider of recovery programs and supports for substance use disorder and addictions. With over 80 outpatient and inpatient facilities across Canada, we offer comprehensive evidence-based care that meets people where they are in recovery, with compassion and respect.
Founded in 1995 in response to an immediate need for expanded access to accessible opioid use disorder treatment in Ontario, CATC has quickly become Canada's leading community care partner supporting people experiencing substance use disorder and behavioural addictions, as well as concurrent underlying mental health conditions.
Today, we help thousands of people every day live their best quality of life, at any stage of recovery.